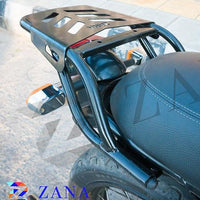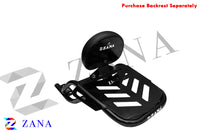 ZANA
TOP RACK WITH PLATE FOR INTERCEPTOR & GT 650 TEXTURE MATT BLACK (W-1)
EMI is Available . Check for options at check out
TOP RACK WITH PLATE FOR GT& INT650 TEXTURE MATT BLACK (W-1)
Product Description:
Copy right protected  design exclusively available from 

ZANA MOTORCYCLES.

Sleek patent design by ZANA.

Maximum Load Capacity 5Kg to 7Kg

Top box Capacity Maximum 30ltr

Heavy-duty load capacity.

New W1 plate design.

Suitable for all PLASTIC top boxes.

It does not come with Pillion backrest as a standard part.

Pillion backrest is removable as per usage

The backrest is height adjustable too.

Waterproof cushion.

All required hardware is included.
** Pillion Backrest have to be purchase separately 
** Not compatible with aulminium boxes