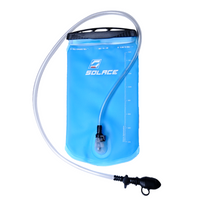 Solace
Solace Hydration Bladder 1.5L
EMI is Available . Check for options at check out
Solace Hydration Bladder 1.5L
Stay hydrated on the go.
Designed to keep you hydrated when out riding, cycling, hiking, running or other outdoor activities. Equipped with a wide opening for easy cleaning and maintenance. Volume markings are on the front, so you can mix your favorite drink or electrolytes inside. Stay focused on your physical fun, and don't be burdened with carrying a clumsy water bottle.
Product details:
Capacity – 1.5 L / 50.1 fl oz

BPA-free food grade material

Sliding seal – opens wide for easy filling and closes tight for a leak-proof seal

High flow valve – provided with on/off switch

Dust cap cover to prevent dust from reaching mouthpiece

Welded seams on exit-port for leak proofing

TPU tubing is odor and taste-free

Volume markings on the front make it easy to mix electrolytes or your favourite drink

Bite valve prevents leaking when the tube is detached

Detachable drinking tube for easy storage and adjustments

Compatible with

Solace's Sabre line of jackets 

and most other hydration packs
Tips and tricks
After each outing, rinse and dry the hydration bladder.
Store in a clean and dry place. You can store your hydration bladder in the freezer to avoid mold forming.
Do not bite on the valve too hard to prevent breakage
To avoid hearing the sound of water moving in the hydration bladder and guarantee optimum water flow for the whole of your ride, just turn the hydration bladder upside down once filled, direct the air bubbles towards the tube opening and suck them out. That's it! The walls of the hydration bladder won't stick together if you suck hard and the water flow will always be just right.
To avoid a plastic taste when drinking, you are advised to rinse the product 3 times before first use. After cleaning, leave the hydration bladder open to dry thoroughly. If the plastic taste doesn't go away, place the dry hydration bladder in the freezer for one night.