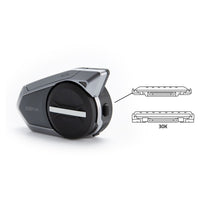 Sena
Sena 50S Motorcycle Bluetooth Communication System (Harman Kardon)
EMI is Available . Check for options at check out
Sena 50S Bluetooth Headset
Focusing on ease of use, the 50S features a large jog dial for intuitive menu navigation. The 50-series platform brings advancements in usability and clarity with Bluetooth 5.0 functionality and Mesh 2.0 connectivity. Redesigned speakers deliver more volume from a smaller package for better in-helmet comfort. The 50S gives direct access to digital assistants when paired with a smartphone. This allows you to keep your hands on the bars -where they belong. "Hey Google, directions to the nearest gas station."
Mesh 2.0 maintains a stronger connection between riders for better clarity and reduced connection times. You can create groups of up to 24 riders and organize groups of riders on different channels. Up to six riders can all chime in simultaneously instead of metaphorically passing the mic. 
Higher output speakers feature slanted edges for a more comfort when riding as well as putting on and removing your helmet.
A fast charge battery gets you back out on the road quicker than with previous Sena models. Stop for lunch and a 20 minute charge buys you an extra 3.5 hours of mesh communication or 6 hours of Bluetooth intercom. An hour of charging brings the 50S all the way up to 100%, with 9 hours of mesh communication or 14 hours of Bluetooth intercom. The charging cable features trick WiFi integration that automatically updates the 50S with the latest firmware from Sena. Any time Sena makes an update to the 50S software package, your 50S receives that update the very next time you charge it up in the presence of WiFi.
50S Audio multitasking fades music out to fade in GPS directions or incoming calls, then seamlessly fades the music back in. Your ride will be as uninterrupted as possible. 
The new 50S smartphone app makes system setup and connecting with others a breeze. 
Features:
Mesh Intercom 2.0 Technology
Multi-channel open mesh intercom (up to 9 channels)
Bluetooth 5.0
Low-profile design
Simplified layout with large jog dial menu navigation
Headset Profile (HSP)
Hands-Free Profile (HFP)
Advanced Audio Distribution Profile (A2DP)
Audio Video Remote Control Profile (AVRCP)
Multi-person intercom (infinite)
Mesh Intercom: Working distance up to 2.0 km (1.2 mile) in open terrain
Remote control compatible
HD speakers
Music sharing
Audio Multitasking
WiFi firmware updates
Charging time: 1 hour for full charge equals 14 hours Bluetooth intercom or 9 hours Mesh Intercom
Quick Charge: 20 minutes of charging equals 6 hours Bluetooth intercom or 3.5 hours Mesh Intercom
Lithium Polymer Battery
Advanced Noise Control
Built-in SBC Codec
Wide volume control
3.5mm earbud port
Built-in FM radio with RDS AF (Radio Data System Alternate Frequencies)
Radio region: worldwide
Radio frequency specifications: 76 ~ 108MHz
10 preset station memory with automatic scan function
Smartphone app