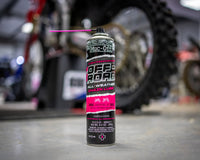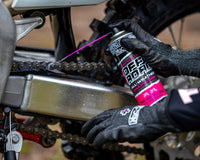 Muc-off
Muc-Off Off-Road Lube – 400ML
EMI is Available . Check for options at check out
Designed for all chain driven off-road machinery, so you can ride smoother and better for longer
Product Description
Every type of off-road rider has different needs when it comes to keeping their chains in optimum condition. Muc-Off Off-Road Chain Lube changes the game in chain efficiency and performance for all your off-road machinery.
Suitable for all weather conditions, Muc-Off's unique and cutting edge water repellent, ceramic, non-fling formula penetrates deep into the chain link, creating a durable protective coating that guards your chain against corrosion and metal to metal wear. Ceramic additives increase component life and maximize horsepower. This is a high-performance synthetic formulation for maximum protection.
An added benefit to Muc-Off's unique formula is that it includes a UV dye, which means you can use a UV torch to make sure you've hit every link of your chain. Be sure to wipe away any overspray. Go longer between applications, with greater protection for your chain than ever before!
It's suitable for standard, O, X and Z-Ring chains and for off-road, long-distance, and all-weather riding. It can be used on motocross, enduro, trial motorcycles, quads, and ATVs.
Highlights
Suitable for standard, O, X and Z-Ring chains
For off-road, long-distance, all-weather riding
Product Specifications
Size: 400ml
What's in the box?
Muc-Off Off-Road Lube – 400ml x 1
---
How To Use
Step 1 – Fully clean, degrease and dry chain.
Step 2 – Shake can vigorously and apply lube ensuring every part of the chain is treated.
Step 3 – To ensure there is limited overspray and that braking areas are checked, use a UV torch on components and wipe away any excess lube.
Step 4 – Re-apply as necessary to ensure maximum protection. Avoid contact with brakes. Store in a cool dry place.

High-performance synthetic formulation for maximum protection
Ceramic additives increase component life and maximize horsepower
Contains UV over spray dye
Can be used on motocross, enduro, trial motorcycles, quads, ATVs