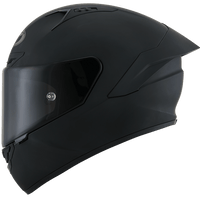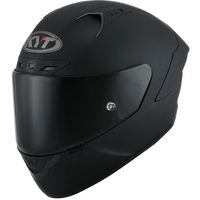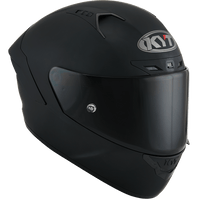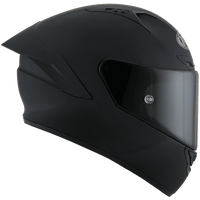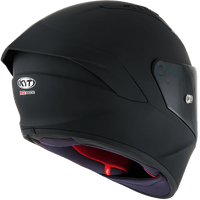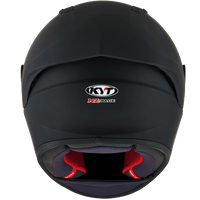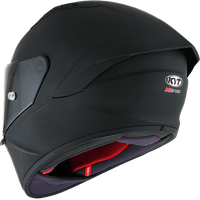 KYT
KYT NZ Race Plain Matt Black
EMI is Available . Check for options at check out
Description
NZ-RACE, the KYT full-face helmet in tricomposite material derived from Kyt's experience in the Racing world.
The shapes have been deeply studied, through fluid dynamic software and through repeated sessions in the wind tunnel, as well as on the track with the KYT riders, to achieve the best performance in terms of aerodynamics, ventilation and comfort, while at the same time enhancing the stylistic aspect characterized, as tradition, by dynamic streamlined shapes.
In particular, the spoiler has been carefully designed to achieve outstanding performance in terms of both aerodynamics and comfort.
The ventilation has also been meticulously optimized to ensure an efficient diffusion of fresh air inside the helmet and to offer, in symbiosis with the fine interior, the outflow of moisture inside the helmet. The visor is in optical class 1 and guarantees a wide peripheral and vertical field of vision, 210° and 90° respectively; anti-scratch treatment, Pinlock® Max Vision 70 anti-fog lens and reference lightness complete top-level equipment suitable for both professional use on the track and for pure fun on the road.
Specification
SHELL
The shell is made in two sizes (M and L) and it is made of Tri-Fiber composite, a mix of kevlar, carbon and fiber glass, to ensure a better impact resistance and lighter weight.
PROTECTIVE POLYSTYRENE
The internal polystyrene is made of 3 different sizes to obtain the best ergonomics with different thickness. This characteristic allows a gradual and progressive absorption of the impact force generated by an impact. Although most of the energy due to an impact is absorbed by the outer protective shell due to its deformation, the role of polystyrene is decisive for the absorption of residual energy.
VISOR
The visor is made of polycarbonate with different thickness in optical class 1 and antiscratch treatment. The visor is easily removable, thanks to a practical mechanism that doesn't require any tool.
PINLOCK®
NZ-RACE is equipped with Antifog Pinlock® Max Vision 70
VENTILATION
The internal polystyrene is studied to work in symbiosis with 3 front air intakes on the shell. Special channels on the EPS allow a non-stop air flow, ensuring a perfect ventilation inside the helmet and a rapid exhaust of the hot air through the extractors on the back, under the aerodynamic spoiler.
INNERS
Inners are removable and washable, in fine and soft fabrics made of fiber that, together with particular sponges, eases the air flow, maintaining dry and fresh the part in contact with the face. Cheeck pads are ready for Bluetooth headphone, have an emergency system to quickly remove them in case of needs and they have "glasses wearable" predisposition.
RETENTION SYSTEM 
The retention system used is the "Double D-RING" in light alloy.
Weight (approx.) gr 1350 ± 50 (gr 1300 ± 50 Carbon sight version)
TABLE SIZE 
Calotta /  Shell
M
L
Taglia / EPS Size
S
M
L
Taglia casco / Helmet Size
XS
S
M
L
XL
XXL
cm
53-54
55-56
57-58
59-60
61-62
63
ECE gr. 1350±50